The Film and Video Game Rights for the Ray Orbison Wrapped in Clingfilm Novel are Still Available
If you are like me, you have spent a lot of time in airless kitchens, wrapping up chunks of meat and cheese in huge sheets of Saran wrap, slicing open the sides of your hands on the teeth of a cardboard box as you dive in to tear off those floppy sheets with a folded, overhand karate chop -- over, under, over, under, over.
You have wondered to yourself: who made this horrible shit? Why is this stuff the industry standard? The slightest breeze or false twitch causes the medium to fold back on itself into an impossible, unusable parallax -- a matted plastic mess that you must twist and cut and curse in order to remove it from the sharp lip and start over.
Merely to fight the plastic wrap and trash your mistakes requires a dance with a serrated edge that generally ends in blood. To what end? Convenience? Speed?
BUT WHAT IF THE POINT OF PLASTIC WRAP WAS TO WRAP UP ROY ORBISON, LEAVING NO EXPOSED SKIN OR HAIR, FOR REASONS THAT ARE DIFFICULT TO UNDERSTAND AND COMPULSIVE?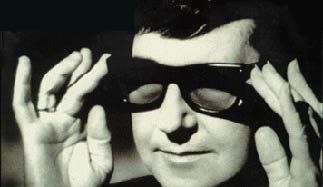 You know that you want to explore this fiction further.
You know that you want to go all the way down with this fiction, all the way to the bottom, and then you want to rock out with this fiction alone in your room and break some strings on your mind's steel Stratocaster.
You know that you are ready for this, or that you would like to be.
I'm just going to leave these links here and walk away, and you can do what you want to with them. We both know what you are going to do with them, so I'm just going to nod BIG and smile. It's cool. It's so cool.
--Ulli's Roy Orbison in Clingfilm Website
--Stories About Roy Orbison Wrapped in Cling-Film's Journal
--Roy Orbison in Clingfilm Haikus
And then there's this:
Comment!
Posted by miracle on Wed, 06 Aug 2008 23:59:13 -0400 -- permanent link