Dubai Bans Novel from Literary Festival for Gayness; Margaret Atwood Leads Festival Boycott
The first-ever literary festival in the Middle East has banned its first-ever book, a novel called "The Gulf Between Us," by Geraldine Bedell, which contains a gay Muslim character. The book, published by Penguin, was intended to debut at the "Emirates Airline International Festival of Literature" but was axed because the committee running the show decided that it wouldn't make it past the Government censor.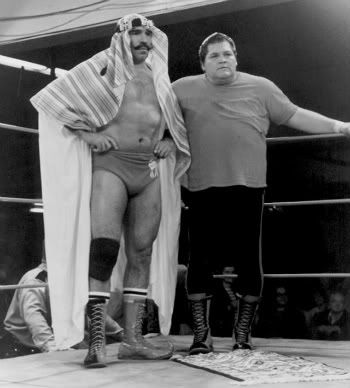 As soon as the ban was announced, Canadian author Margaret Atwood (author of "The Handmaid's Tale," and who was probably going to be murdered anyway)
dropped out of the festival where she was slated to attend
.
Isobel Abulhoul is running the festival for Emirate Airlines, the chief sponsor. Abulhoul also directs a bunch of bookstores called Magrudy's in the region. She had this to say about the festival's decision:
"I have lived in Dubai for forty years. Based on my knowledge of who would appeal to the book-reading community in the Middle East, and having read 150 pages of Ms Bedell's manuscript I knew that her work could offend certain cultural sensitivities. I did not believe that it was in the Festival's long term interests to acquiesce to her publisher's (Penguin) request to launch the book at the first Festival of this nature in the Middle East. We do, of course, acknowledge the excellent publicity campaign being run by Penguin which will no doubt increase sales of her book and we wish Ms Bedell the very best."
In a blog post for the Guardian entitled
"The only offensive thing about my novel is that it's been banned,
" Bedell defended her book, a thing which she didn't really have to do:
"The Gulf Between Us, now coming out in April, isn't an earnest book. It's a comedy, and a romantic comedy at that. But it does have a theme, and it's prejudice. All kinds of thoughtlessness crop up -- not just homophobia, but Islamophobia, anti-Americanism, prejudice against women, against Arabs. The thread running through the novel is that the blinkered ideas that stop us understanding each other are often nonsensical."
The festival was created with the intent to spread awareness of Arab literature, in addition to inviting authors from the West to sign books, talk about literature, and tell the rest of the world how enlightened Dubai is in order to suck investment dollars from corporations and real estate developers.
From the
EAIFL wesbite
:
"His Highness Sheikh Mohammed Bin Rashid Al Maktoum, the Ruler of Dubai and Vice President of the UAE, has recently announced his vision of eradicating illiteracy from the Arab World. Suddenly everyone in Dubai is reading (or at least carrying a book under their arm) and every day we hear how important literacy is; there is active encouragement for budding authors and attractive awards for those involved in the world of books. A festival of literature held in Dubai will heighten everyone's awareness and enjoyment of anything connected to the written word: books, authors, poetry and debates."
Other authors from the West slated to attend the festival include Frank McCourt, Terry Brooks, Brian Aldiss, Kate Adie, Simon Armitage, Anne Fine, Anthony Horowitz, Julia Glass, Alexander Maitland, Grace Nichols, Edmund O'Sullivan, and James Waterson. The festival will feature 66 writers from all over the world, and while a few of them probably DO have problems with gay people, we only know for certain that Margaret Atwood would rather sleep at night than get paid and chill out in a golden whirlpool full of dewy, high-class, know-their-place prostitutes.
Although, to be fair, the situation is complicated. Do you boycott, or do you show up and make a complete ass of yourself? The only thing sweeter than refusing to eat is to bite the hand that feeds.
Frank McCourt: rabid, drunken after-dinner speech?
Note: Terry Brooks, your elves are gay.
The only UNACCEPTABLE stance for a writer who plans to attend this festival is ambivalence.
We will remember those who smile for the publicity photos, make bank, and lend their credibility to a festival which has no problem squashing brave writers for expressing themselves.
Dubai: Walk before you run. Literary festivals aren't what make the West liberal, secure, and good for long-term financial investment: human rights, free speech, and democracy do this. People are waiting for a bloody revolution to stain your beautiful glass buildings before they start sinking money into your future.
Posted by miracle on Wed, 18 Feb 2009 11:11:38 -0500 -- permanent link