Stolen Head of Philip K. Dick Android Discovered in Russian Pirate Bust
The missing head of the Philip K. Dick android has finally been discovered in St. Petersburg, confiscated in an Interpol sting against the Russian software piracy syndicate "Little Bear."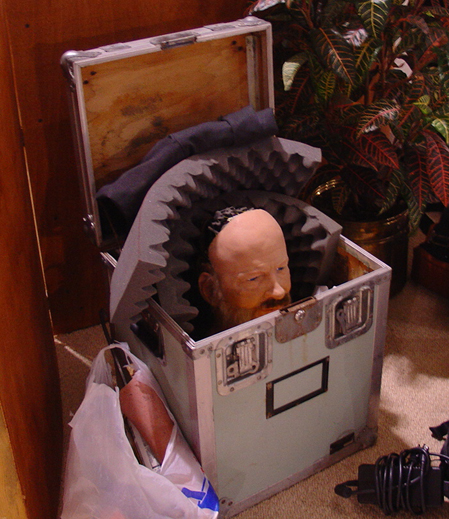 "They were using the head basically as a portable hard drive to transport pirated ebooks, movies, games, and data between Russia and South America," said Detective Andrei Supernov. "I think they thought it was funny."
Worth over $25,000, the head is able to conduct conversations, recognize faces in a crowd, make eye-contact, and quote long passages from Dick's own body of work, downloaded into the head with permission from the Dick Estate.
The head has been missing for over four years, ever since its creator, computer scientist David Hanson, left it on a plane during a press junket for the film "A Scanner Darkly."
From
the New York Times
:
"They woke me up, I got my laptop from under my seat, and being dazed, I just forgot that I had the robot in there," said Mr. Hanson, referring to the head in a black, American Tourister roller bag, left in the overhead compartment.

After landing in San Francisco, he notified the airline, whose officials apparently found the head in Las Vegas, packed it in a box and sent it on the next flight to San Francisco. Mysteriously, it never arrived.

"It's hard to know where they went wrong," said Mr. Hanson. "Did it go on to another city? Did it get mistagged? Did it end up in a warehouse? What happened?" He still doesn't know, though he is in touch with America West every few weeks in a vain quest for answers.
After
a lawsuit against America West in 2008 went nowhere,
Hanson had given up hope on ever recovering the PKD head.
"I figured it was a paperweight somewhere," said Hanson. "Or worse: in some landfill."
Interpol has been investigating the Russian pirate syndicate "Little Bear" for eight months, and only came upon the head last weekend after rousting a St. Petersburg travel agent who was serving as their Russian front.
"We were just as surprised as anyone to find this thing," said Detective Supernov. "At first I thought the head was real and I was sick to my stomach. Then they told me it was a computer, and so I was going smash it in front of them to prove a point about computer crime. But then they told me how much it was worth."
Investigators still have no idea how "Little Bear" managed to intercept the head en route between San Francisco and Las Vegas. The head will be returning to the United States next week, where it will be rejoined with the body.
"Unfortunately, Little Bear erased all the Dick stories in order to make room for stolen movies and video games," said Detective Supernov. "Now the head quotes episodes of "Three's Company."
Posted by miracle on Thu, 01 Apr 2010 15:07:47 -0500 -- permanent link